Looking for financial advice? We offer all clients a no-cost and no obligation review at our office, your home or using video conferencing technology!
At Financial Fortress, we maintain the highest levels of service and guarantee no jargon! No long wait times on the phone and easy to reach named & dedicated advisers!
A review with us will ensure you fully understand your plans, maximise your savings & the investments. We are obsessed with ensuring you a successful & secure future.
To help every client build their very own Financial Fortress!
At Financial Fortress, we believe that good financial planning is absolutely key to everyone at all stages of their lives to ensure total financial security, protect your loved ones and allow absolute peace of mind.
Whether you are buying your first home, aiming to protect your family from life changing events, investing for a rainy day or planning for your retirement it is vital you get the very best advice from an expert you can trust. No matter the size of your need, at Financial Fortress we provide trusted advice no matter what keeps you up at night!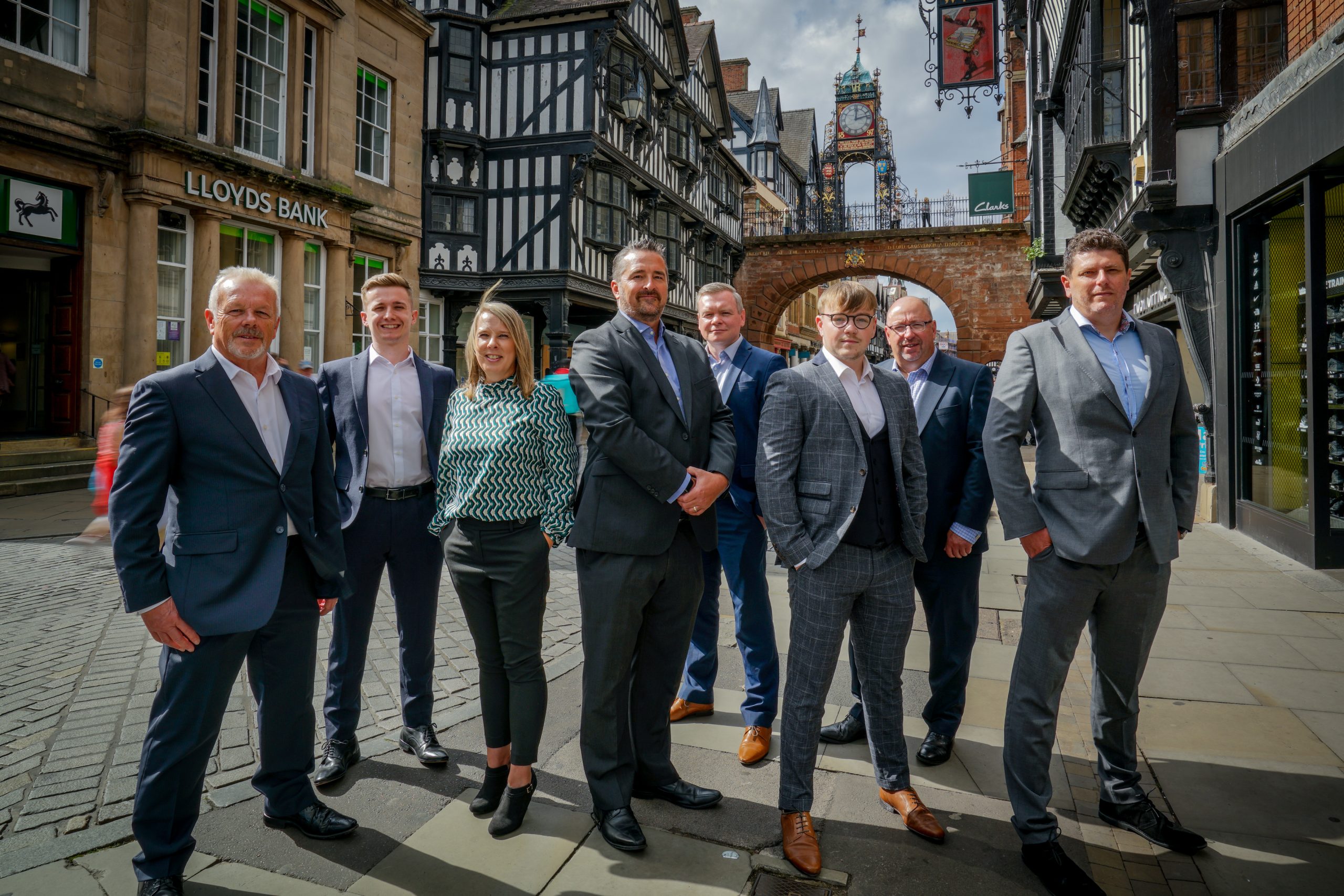 ---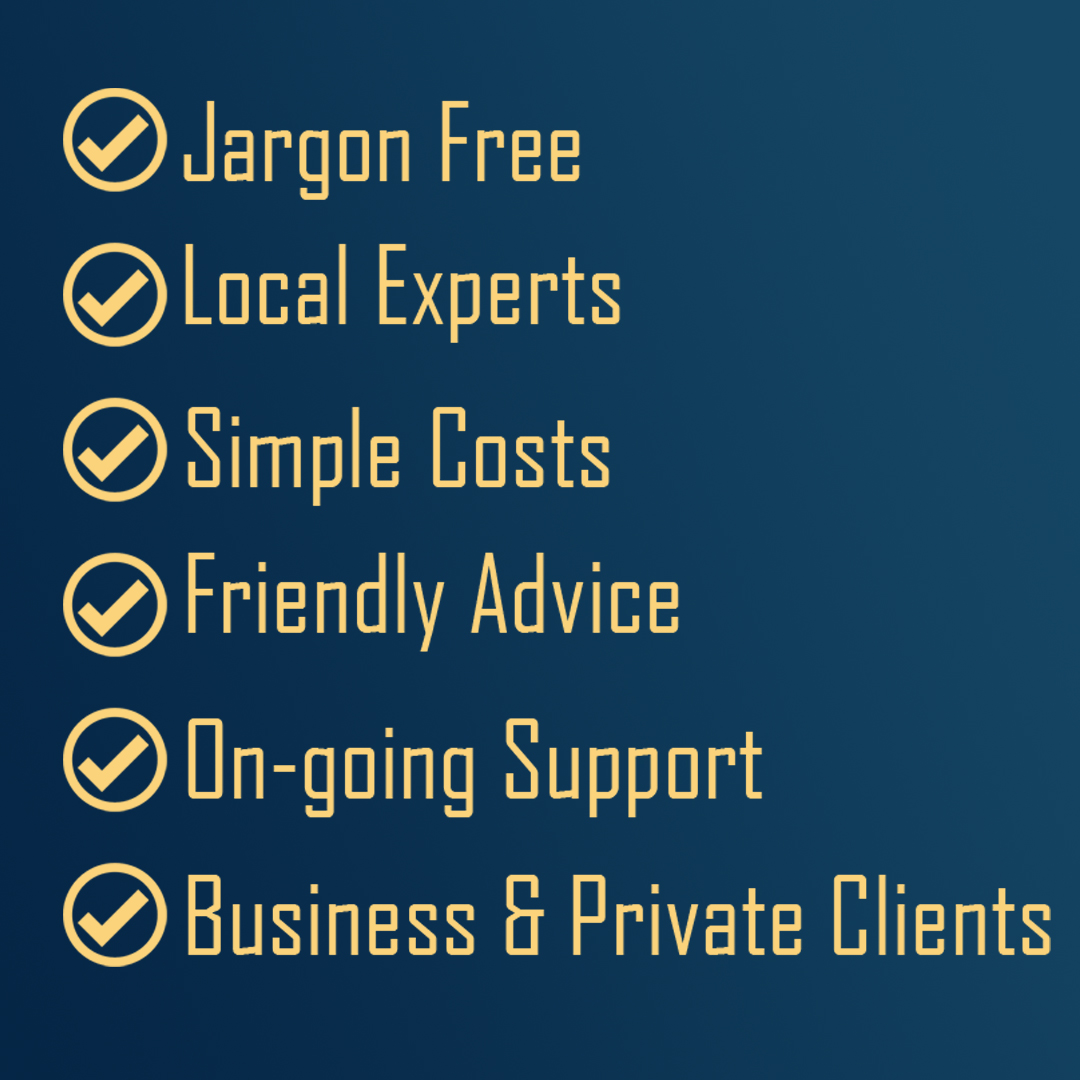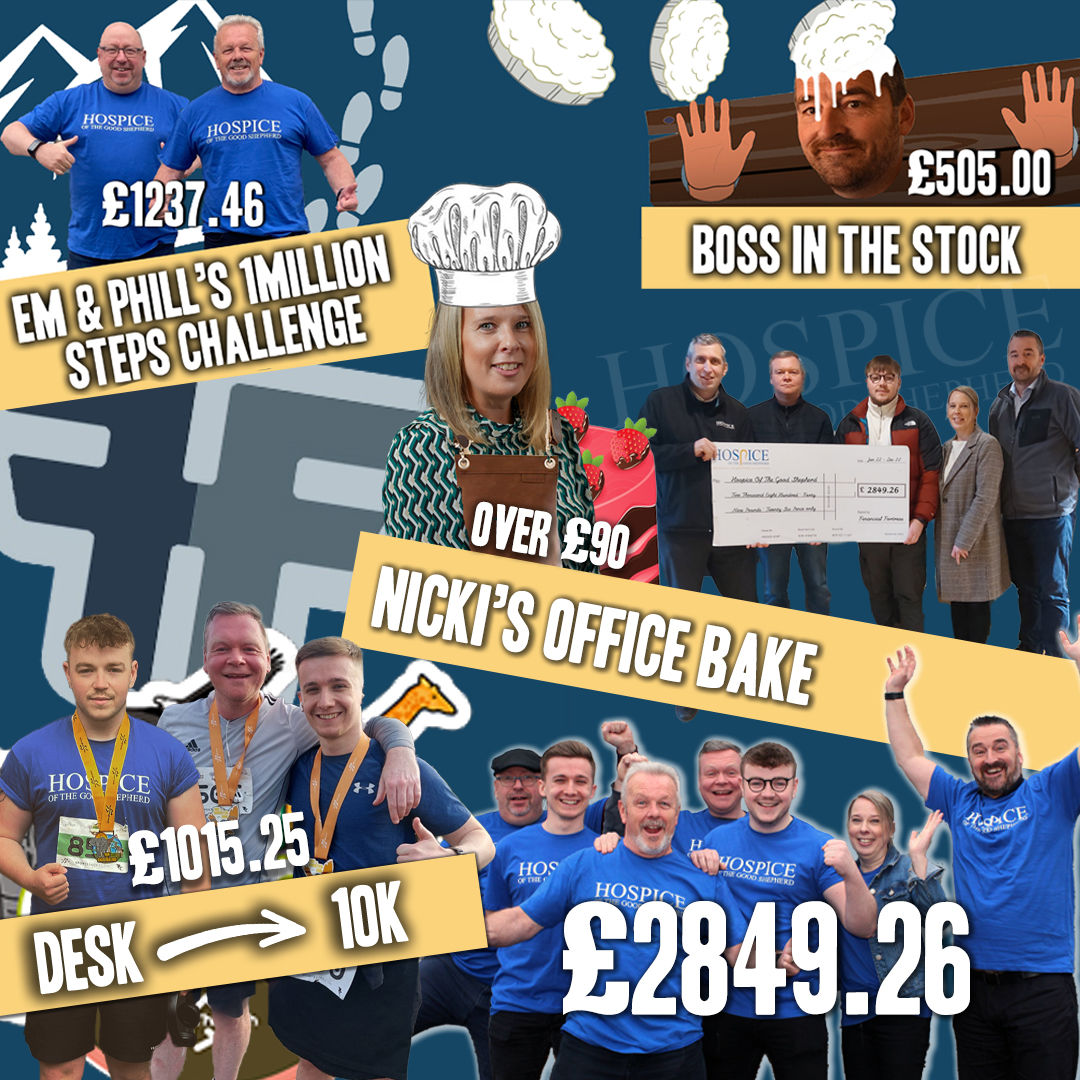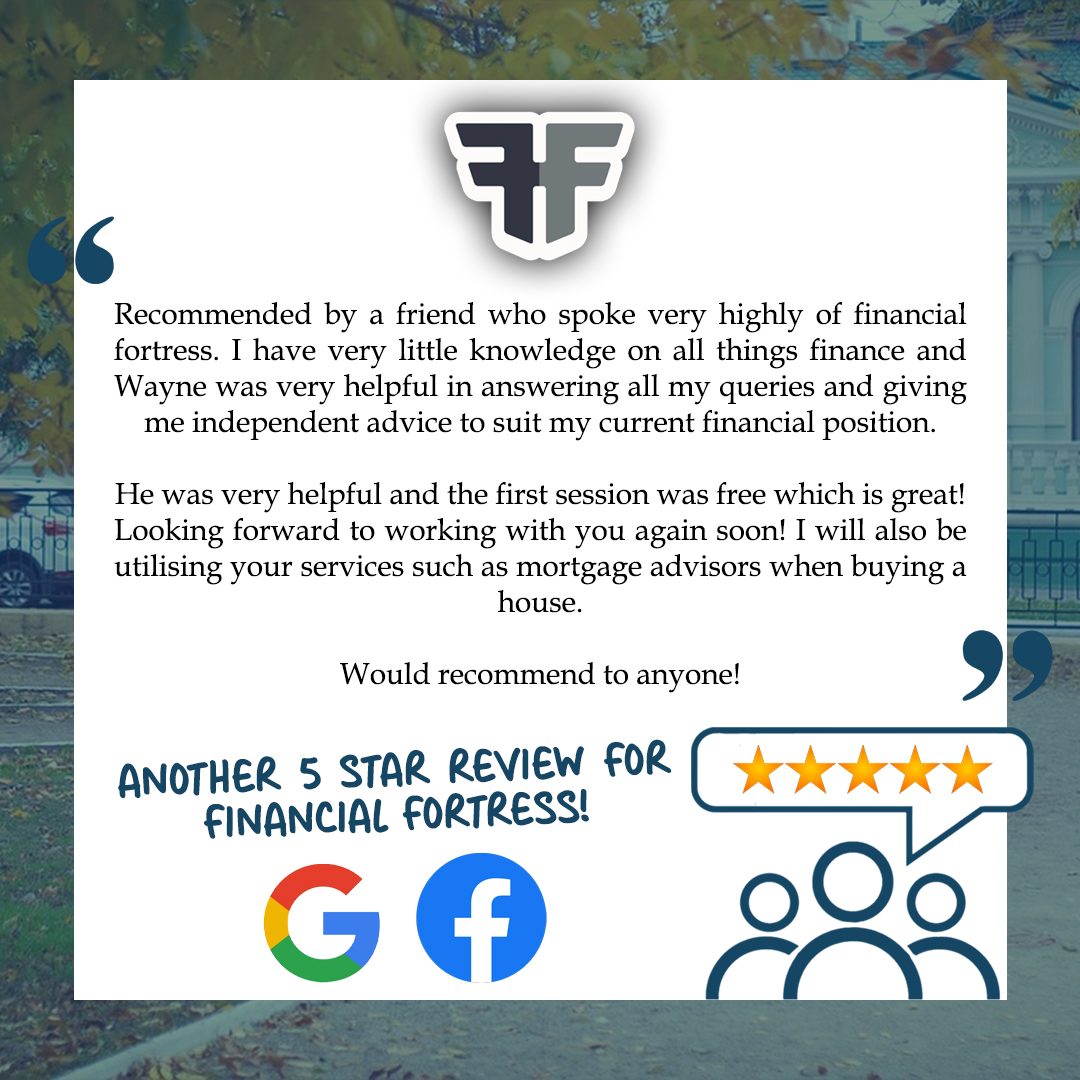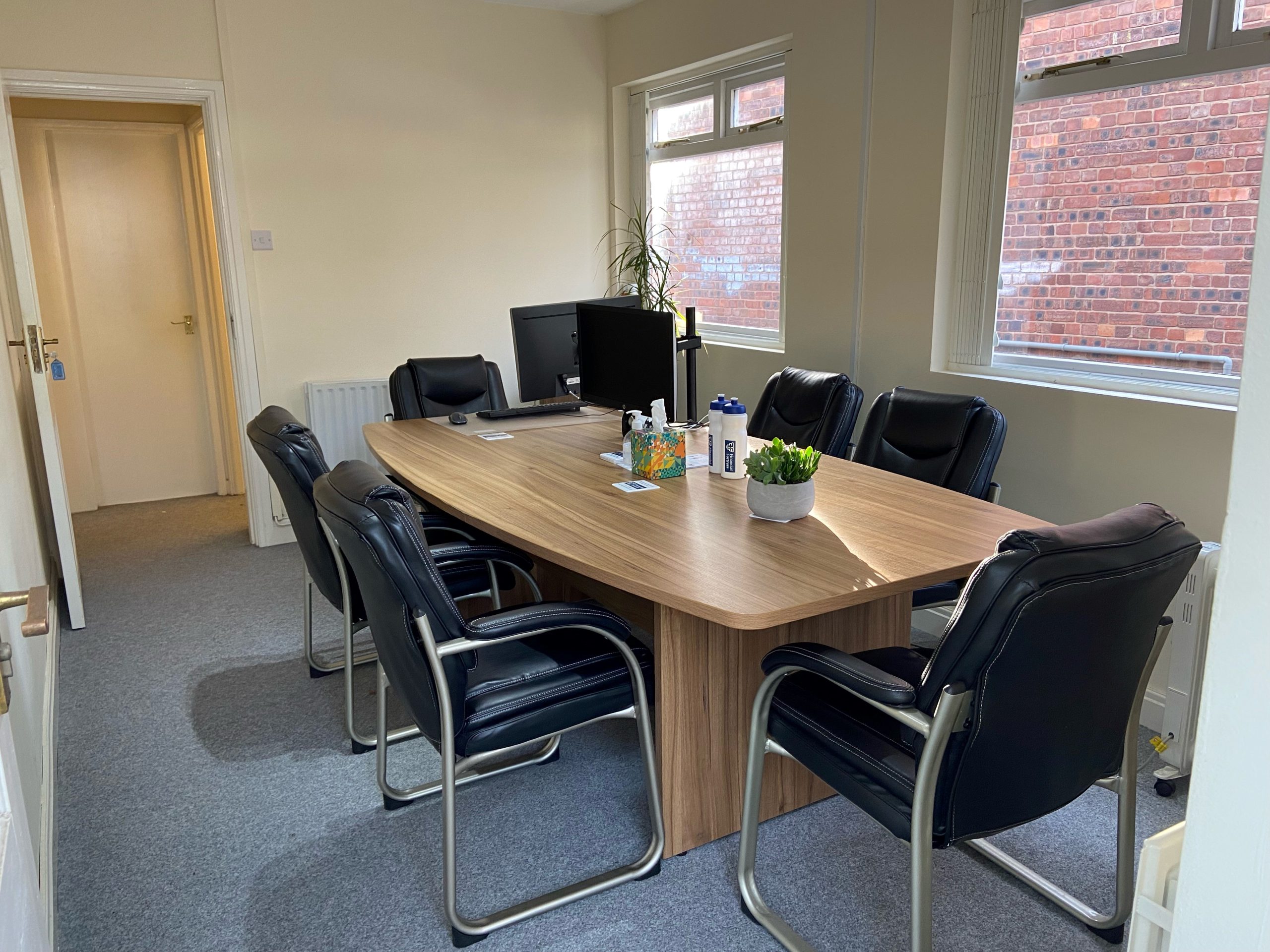 Our process
Here at Financial Fortress we have decades of experience allowing us to tailor the whole process around you. Generally speaking, our financial planning process can be broken down into five easy steps and is usually completed over 2 meetings. Here's what to expect:
1. Understanding you (the fact find)
Probably the most important part of any relationship is getting to know each other properly, only then are we able to make quality recommendations that truly work and take account of your financial circumstances and needs. At Financial Fortress we have invested in exclusive, cutting edge tools and technology to ensure we do this effectively in an easy to understand manner.

The fact-find will be tailored depending on your needs, for example if your only priority is a mortgage, there is no point having a discussion on the tax implications of an investment!!

2. Disclosure of our service and cost
At our first meeting, your adviser will clearly explain who we are, what services we offer, the details of our regulator and how we get paid. Bear in mind we are independent, un-restricted and whole of market advisers. This means we are able to source you the very best, most cost effective solutions from any provider in the marketplace. You can choose how to pay us, either directly from yourself or from your plans themselves.
3. The recommendations
Once we have established all the facts, we will make clear recommendations to you based on the information gathered and the areas of need. These will be presented in written format supported by FCA approved personalised illustrations and easy to read guides with your adviser explaining it all clearly and without jargon or pressure.
The recommendations will also include a full breakdown of cost, detailing to the penny what we will get paid.
4. Implementation
Now you have all the facts at hand, you can make an informed decision to take action. Where you agree with our recommendations your adviser will guide you through completing the often complicated paperwork and application forms. We will then liaise with the chosen providers to ensure all plans are set up correctly and in accordance with your wishes.
5. Ongoing advice (investments and pensions only)
Unlike other companies, we do not hide any commissions or charges in your plans. If you only want the initial advice and decide you are happy looking after your plans yourself then we are happy to remain available on a reactive basis.
With investments and pensions, as these products and legislation surrounding them is constantly changing we recommend you opt to include our ongoing advice service. For an additional annual cost, we will guarantee you a pro-active service including face to face annual reviews and careful ongoing management of both the providers chosen and investments placed. This really does provide you with complete peace of mind!
anchor
Meet the team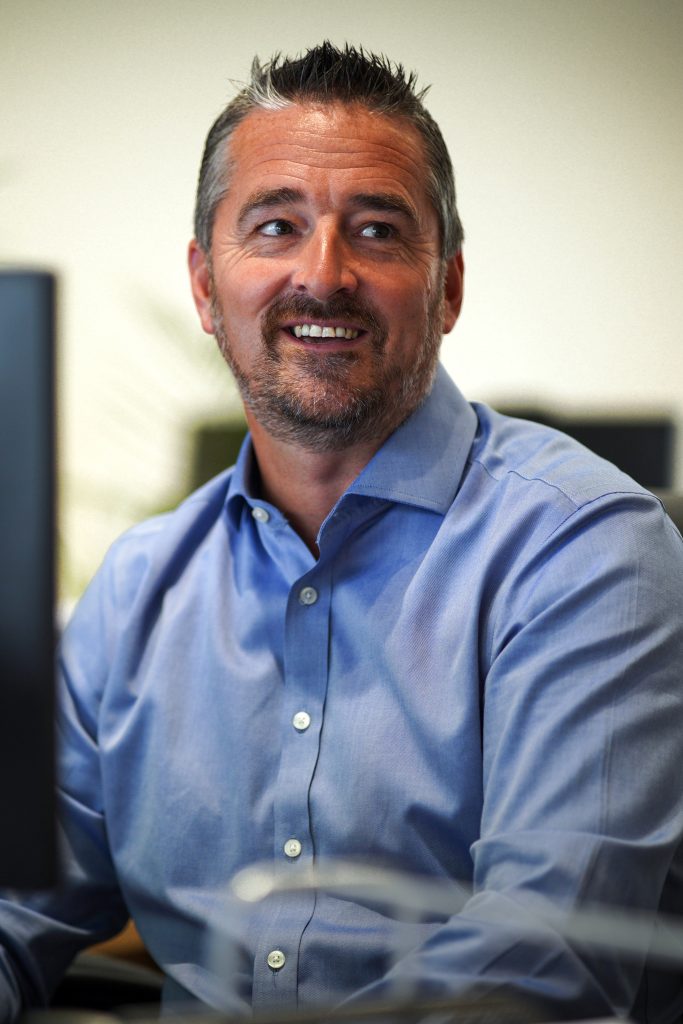 Wayne Musker DipCII, Certs (MP&ER)
Following a successful career in travel, Wayne first entered the world of finance in 2003 and worked in a variety of disciplines until qualifying as a Financial Adviser in 2006. Initially working for Barclays Bank, Wayne was then headhunted by Royal Bank of Scotland in 2009 before starting Financial Fortress Ltd in 2013. As the Managing Director of the firm, Wayne prioritises getting the culture right by ensuring all team members treat clients fairly and is very proud of what Financial Fortress has become!
More about Wayne
Over the years, Wayne has developed extensive relationships with other experts in law, accountancy, banking and finance to work collaboratively in the best interests of our clients where necessary. Outstanding client service, honesty and integrity is Wayne's key to success.

Qualifications:
• QCF Level 4 (via CF1 – CF5)
• CF6 – Mortgages
• CF8 – long Term Care
• ER1 – Equity Release
• J01 – Personal Taxation
• R01 – Regulation and ethics
• R02 – Investment principles & risk
• R04 – Pensions and retirement planning
• R06 – Financial Planning Practise
• AF3 – Advanced Pension Planning
• AF2 – Advanced Business Financial Planning

Outside work
Wayne lives in Upton, Chester with his wife Nicki and 3 sons Joshua, Isaac and Noah. Hobbies include squash, cycling, camping and following Liverpool FC (although you shouldn't hold this against him!).
Wayne is committed to our community and is involved coaching Children's football with Newton Athletic and is a Trustee for the charity.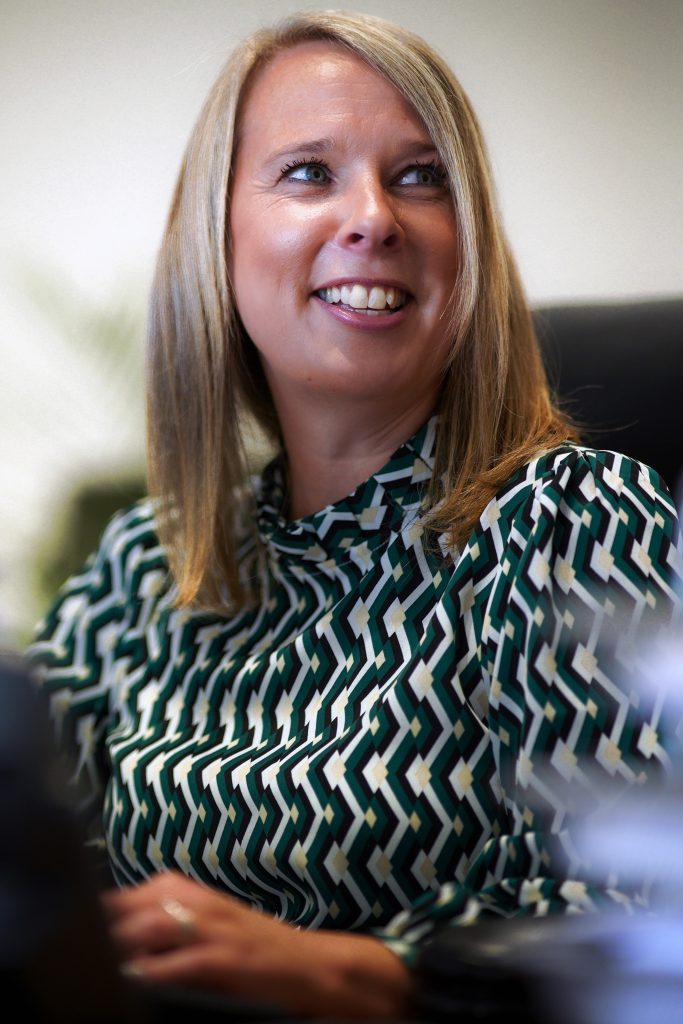 Nicki Musker S.A.C.Dip, Director
Being a family owned firm, Nicki is the second Director and heads up the Legal Services side of the business. Having worked for one of Chester's largest law firms for over 13 years she qualified as a Property Lawyer in 2004 before practising until 2011. Nicki then established her own business offering secretarial services to solicitors before joining Financial Fortress in 2014 as fellow Director.
More about Nicki
Given Financial Advice often overlaps with our Legal colleagues, offering legal and secretarial services within our business has meant we develop incredibly deep and trusting relationships with local Lawyers and Solicitors. This results in a joined-up approach for our clients and almost a "one-stop shop" in meeting both their financial and legal needs.

Outside work
Nicki is married to our other Director, Wayne where she lives in Upton with 3 sons Joshua, Isaac and Noah. Interests include theatre trips and spending time with the boys.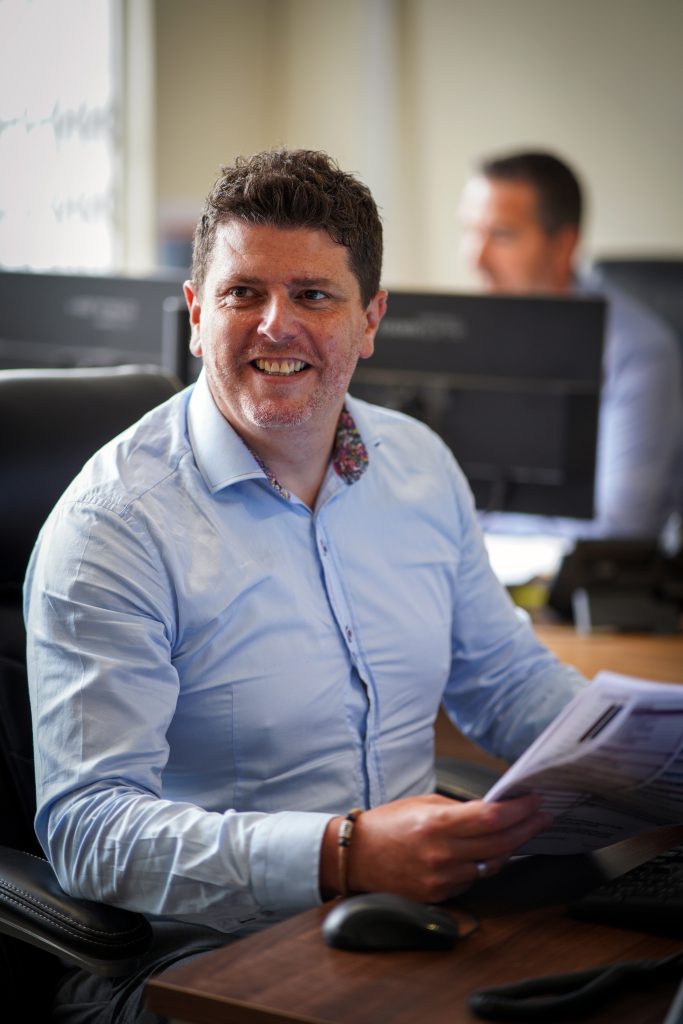 Malcolm Gorton BSc (hons), MAQ
Following obtaining his honours degree in 1997, Malcolm immediately entered finance working for Britannic Assurance as a financial adviser. After moving to an independent advice company 3 years later, Malcolm then joined NatWest Bank as a mortgage adviser covering Chester and North Wales.
More about Malcolm
Over the years, Malcolm has become a true specialist in mortgage's and provides top quality advice to those buying their first homes, re-mortgaging and home movers. Having local relationships with property lawyers and estate agents means Malcolm provides a joined-up approach ensuring the house buying process is as smooth as possible.

Knowledge of everything house buying is Malcolm's success who describes service, service and service as being the key.

Qualifications:
• BSc (honours) in Mathematics and statistics
• Mortgage Advice Qualification (MAQ)
• Financial Planning Certificate (FPC)
• Life and Pensions Certificate

Outside work
Malcolm lives in Tremeirchion, North Wales with his wife Ceri and son Jac. Hobbies are all centred around the family but include keeping fit and swimming. Malcolm also supports Liverpool FC.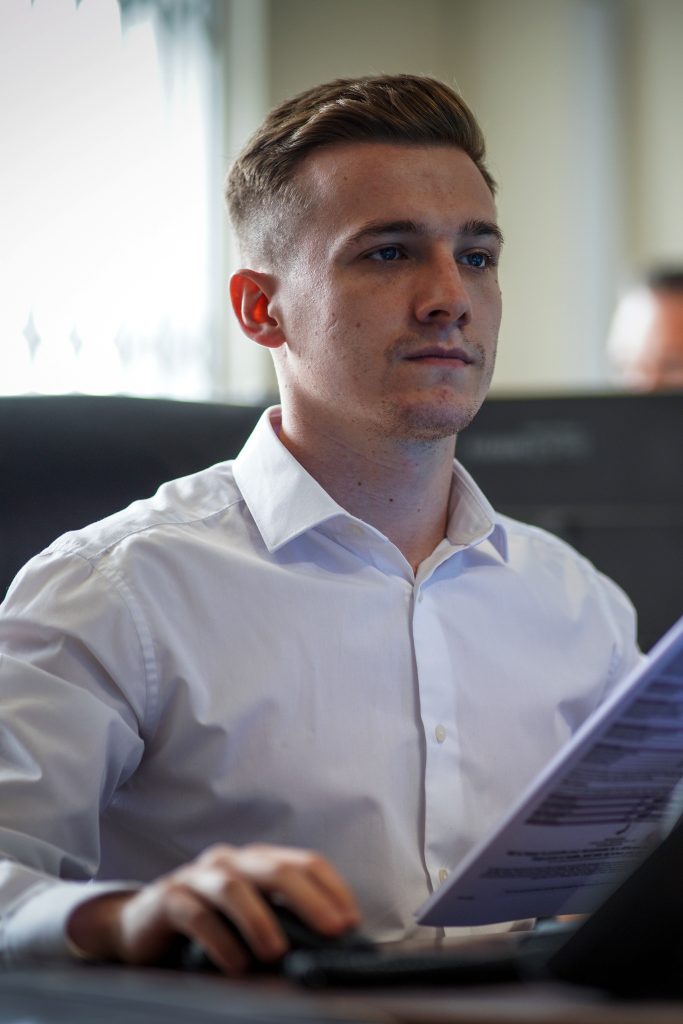 Kieran Broster DipPFS Cert CII (MP&ER)
Kieran started his career in recruitment but after 3 successful years with one of the world's largest recruitment firms, was approached by the Directors of Financial Fortress to become a Trainee Financial Adviser. After years of training and multiple exams, Kieran became a fully qualified financial adviser in the summer of 2023.
More about Kieran
Since joining, Kieran fast-tracked the qualifications through hard work and within 8 months became a qualified Mortgage Adviser. He then passed further exams including in Equity release. Having a real drive to learn, we have no doubt Kieran is an industry star to watch for the future!


Qualifications:

Diploma in regulated financial planning awarded by the CII
Certificate in Mortgage Advice with the Chartered Insurance Institute
Equity release Certificate (ER1)

Outside work
Kieran is another local of Chester where he lives in Upton with his family. Interests include swimming, socialising and going to the gym. Sadly for him, Kieran is the only Manchester United fan in the team meaning he is usually on the receiving end of a joke or two!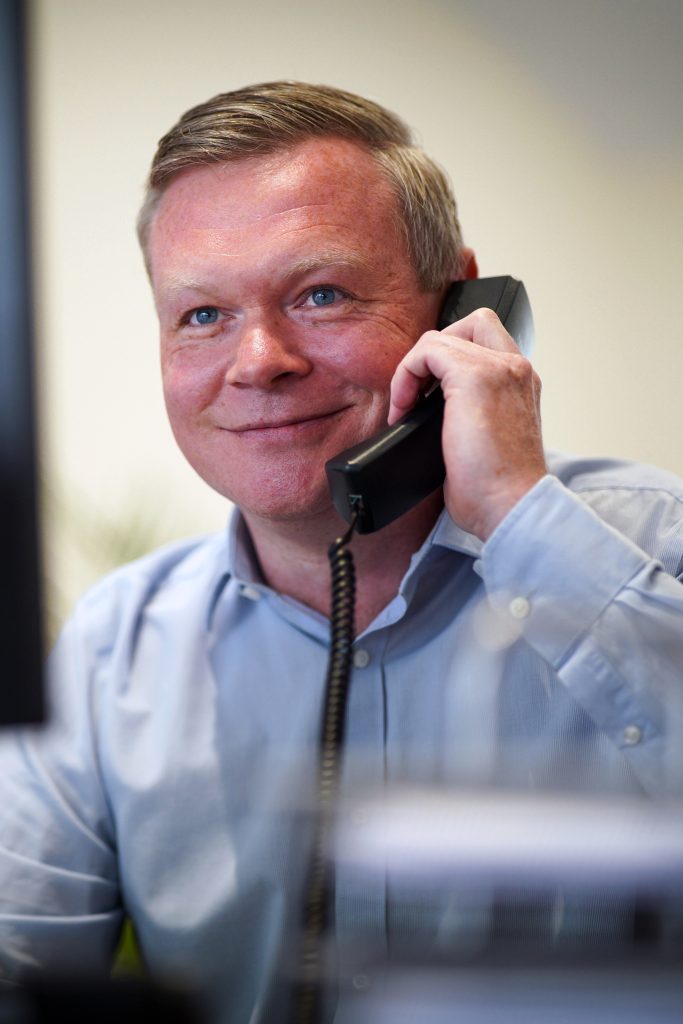 Alex Brown DipFA, CeMAP, PETR
Alex started his career in publishing but after 11 successful years, decided to turn his attention to his real passion and entered the world of finance in 2012. Starting his career with what is known as a "restricted" financial adviser (not independent like us!), Alex took the opportunity to study for his diploma, quickly qualifying with distinctions before gaining valuable experience helping clients.
More about Alex
Alex's specialist areas are retirement planning & protection and he is passionate about our clients, ensuring their financial security is built and protected!

Qualifications:
• Diploma for Financial Advisers with the London Institute of Banking & Finance
• Certificate in mortgage Advice and Practise (CeMAP)

Outside work
Alex is another local and lives in Chester with his family. Alex is an avid football fan and used to play for local team Hoole Rangers. Sadly, for some of our clients (and Kieran), Alex is another Liverpool fan and is the proud owner of a season ticket.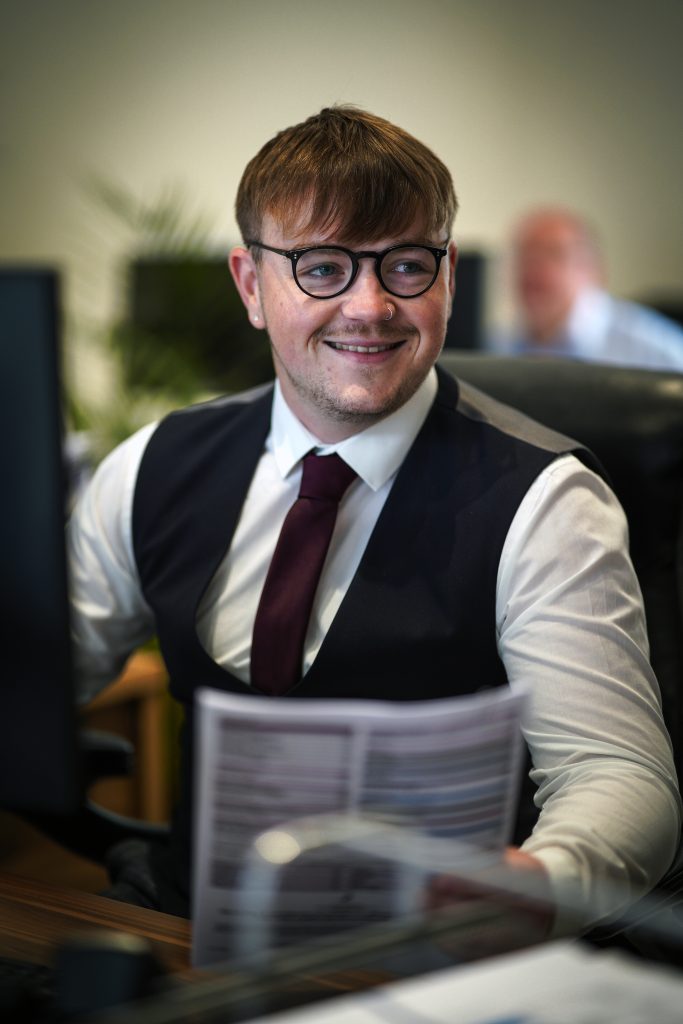 Ryan Hardwick
Ryan joined Financial Fortress as an apprentice marketeer having previously worked for a Supermarket. He was enrolled on the Government recognised Level 3 Digital Marketing course. After successfully passing his diploma he is now looking to yet again further his knowledge in marketing and business. His role includes managing all things marketing including, digital advertising, managing the in-house Google AdWords account and adding updates to our website to help make it run more efficiently for our clients. Ryan Has also started his journey in to becoming a mortgage adviser.
More about Ryan
Qualifications:
• Level 3 Diploma for creative media production.
Digital Marketer (level 3)
Level 3 Award in Principles of Coding
Level 3 Certificate in Marketing Principles
Level 3 Certificate in Digital Marketing Business Principles


Outside work
Ryan is another local who lives in Elton , a village just outside of Chester, with his family. Ryan enjoys going to the gym, socialising with friends, attending the odd festival in the summertime and runs his own business selling posters online.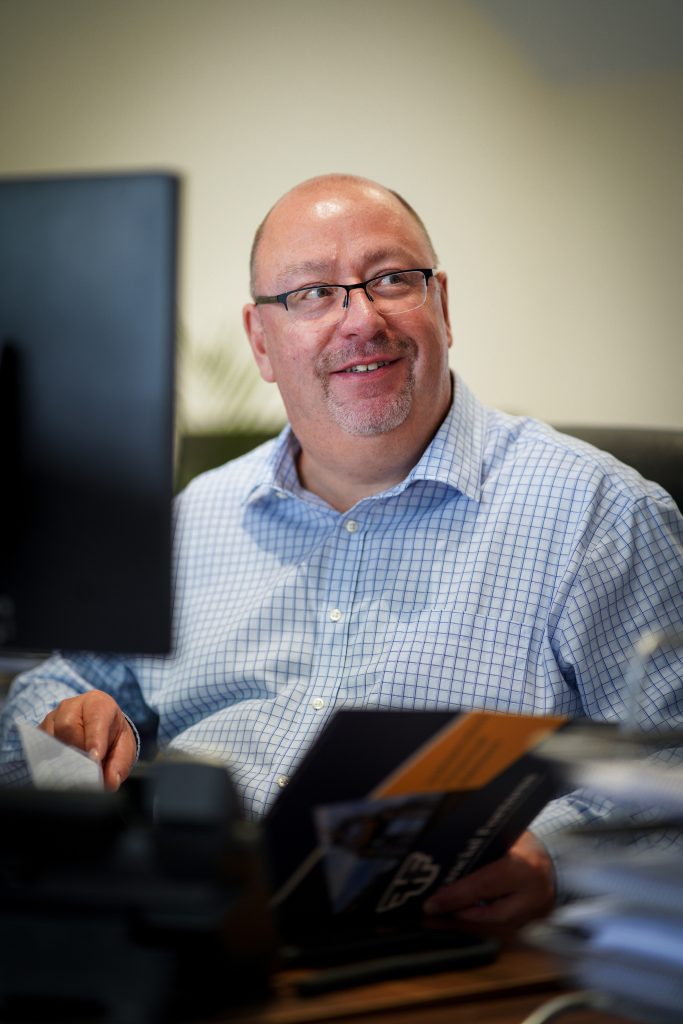 Emyr Evans DipPFS
Emyr has been a financial adviser since 1992 for HSBC Bank including 12 years as an independent adviser. He left HSBC to become an Independent Financial Adviser with a family owned competitor company and joining Financial Fortress in 2020.
Emyr's specialist areas are compliance, investments, inheritance tax and retirement planning with specific emphasis in ensuring total financial security for our clients, ensuring their complete peace of mind.
More about Emyr
Qualifications:

Certificate & Diploma in Financial Planning, awarded by the Chartered Insurance Institute
CF8 Long Term Care

Outside work

Emyr lives in Llangollen but hopes to relocate to Chester in the coming months and enjoys travelling including a recent 6-week trip to Australia. Other favourites include walking, good food and good wine (although not in work time!) Emyr's 2 sons are now grown up and both live locally to our head office in Chester.
Sadly, our interviewing process does not yet include football affiliation so Emyr has snuck in as another Manchester United fan, bringing the "Man U team" to 2!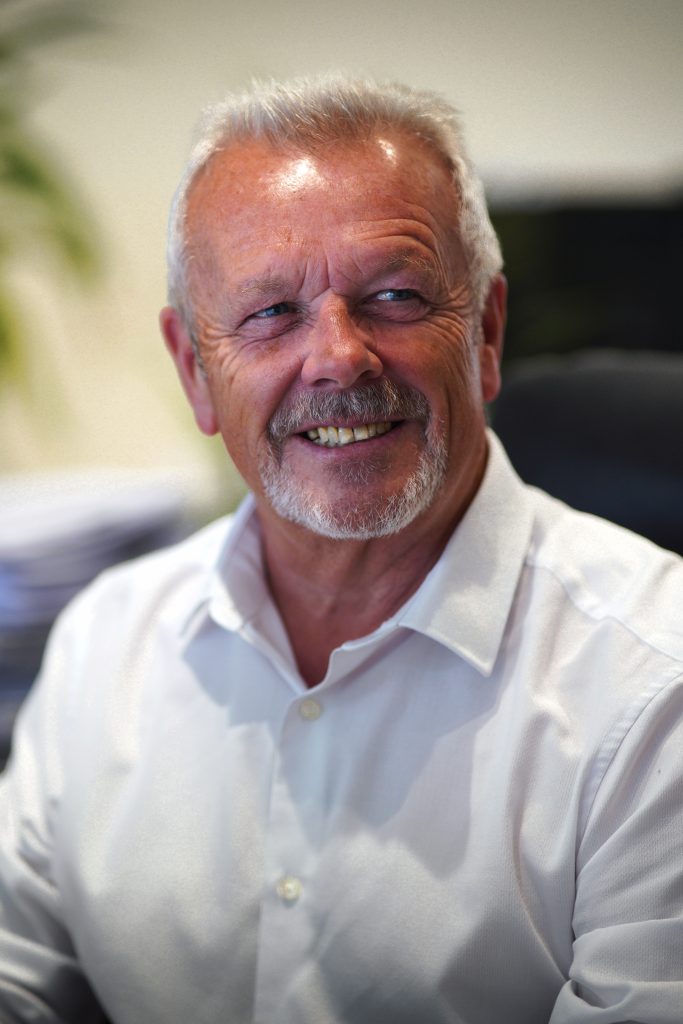 Phill Davies DipPFS
Phill has been involved in the world of finance since 1980 and his long career has seen him working with some of the worlds' largest and most respected companies including Barclays, Prudential and Axa to name a few!
Phill became a dedicated financial adviser with a competitor firm in 2017 before joining Financial Fortress in February 2021 following redundancy!
More about Phill
Qualifications:

Diploma in Regulated Financial Planning, awarded by the CII
Advanced Diplomas G10 & K10
CF8 – Certificate in Long-Term care

Outside work

Phill lives in Wrexham with his wife Glenys and has 3 children Sarah, Craig and Amy and 2 grandaughters.
The family enjoy spending time in their static caravan in Llandudno, have a shared keen interest in music,
walking the dogs(they own 5 in total) and cycling.
Phill is a "blue-nose", bringing the Everton supporting contingent of Financial Fortress to exactly….1!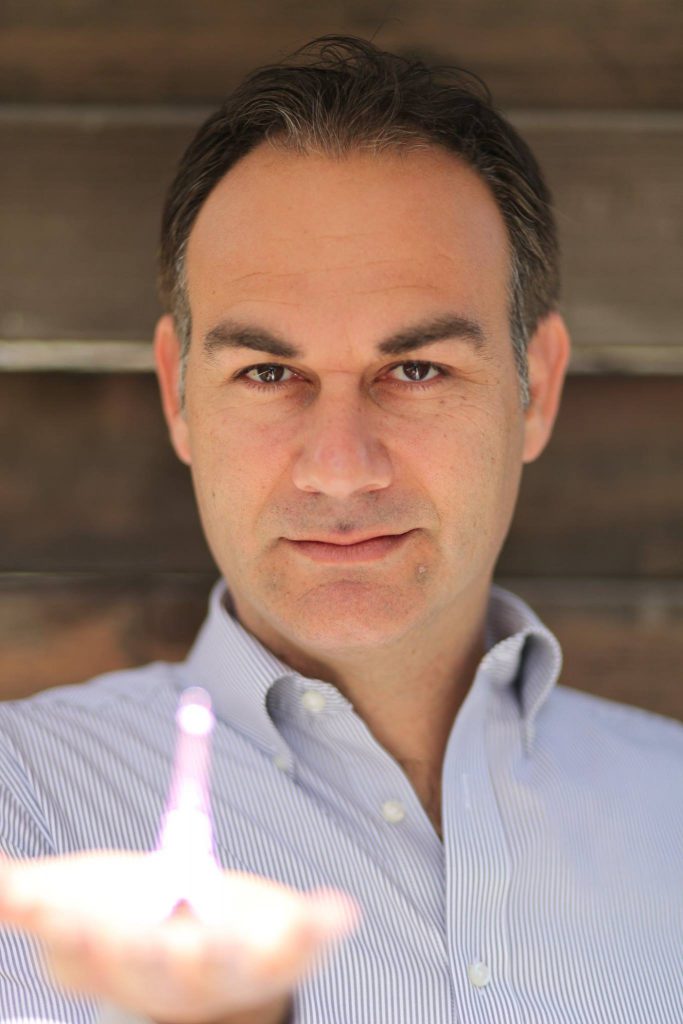 Ehud Shapira (Udi)
Udi's career has been extraordinary, traditionally involved in television and gaming where he founded 3 successful companies and before that was Director of Programming for Nickelodeon & Game One channels. Following a successful sale of his own international TV channel to industry big-hitters Sky & ITV, this brought semi-retirement in 2017, however Udi soon realised he was not yet ready to retire!
Udi decided to change track completely – successfully investing in UK property and has been self-managing a portfolio of 8 properties in Gloucester and Swindon ever since. Udi is now a go-to expert in all things property, ensuring all requirements & legislation is adhered to as well as sourcing, vetting & referencing new tenants plus all the financing strategies that are needed to make a venture successful. This is what led Udi to getting involved in his real passion – the world of finance and qualification as an Independent Mortgage Adviser with UK leading finance broker, Financial Fortress!
More about Udi
Qualifications:

CeMAP (Certificate in Mortgage Advice and Principles)
B.A, Department of Communications

Outside work
Udi lives in Cheltenham with his wife, Sivan and children. Udi's passions include helping potential landlords navigate the complex world of finance and is the admin of Facebook and WhatsApp groups for Israeli's living and investing in the UK.
Separately, Udi adores British history and runs 2 blogs (in Hebrew & English) that follow his travels around the UK visiting castles and stately homes (of which he has visited over 130 and counting)! For our football supporting clients, Udi further diversifies our offering and is a proud Chelsea supporter!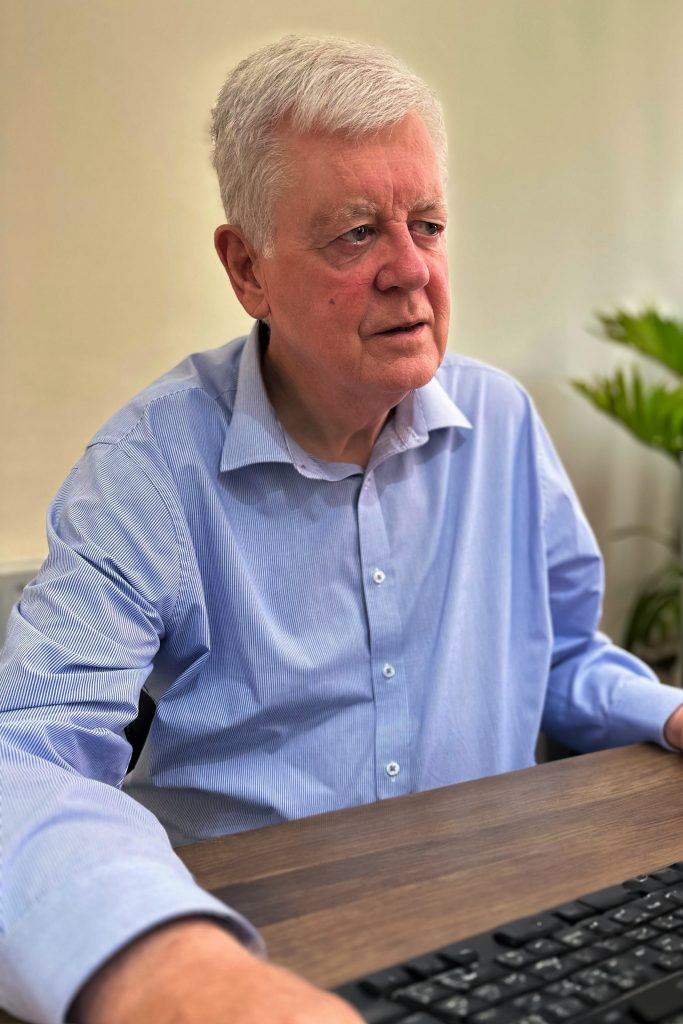 Reg Shepherd
Reg started his career after school within a family business as a property developer before joining the world of finance in 1985. Nearly 40 years later, Reg's career has seen him working with some of the worlds' largest and most respected companies including City Bank working out of Liverpool's iconic Liver Building.
Reg is a Protection Specialist so an expert in all aspects of insurance including life cover, mortgage cover, critical illness planning, business & income protection.
More about Reg
Qualifications:

Financial Planning Certificate

Outside work
Outside of work, Reg likes to spend time with family and pursue his passion of photography. For all our football fans, Reg is actually a neutral but if pushed would choose Manchester United (via his son's support) bringing the total United "fans" in the office to 3 (still outnumbered by the scousers lol)!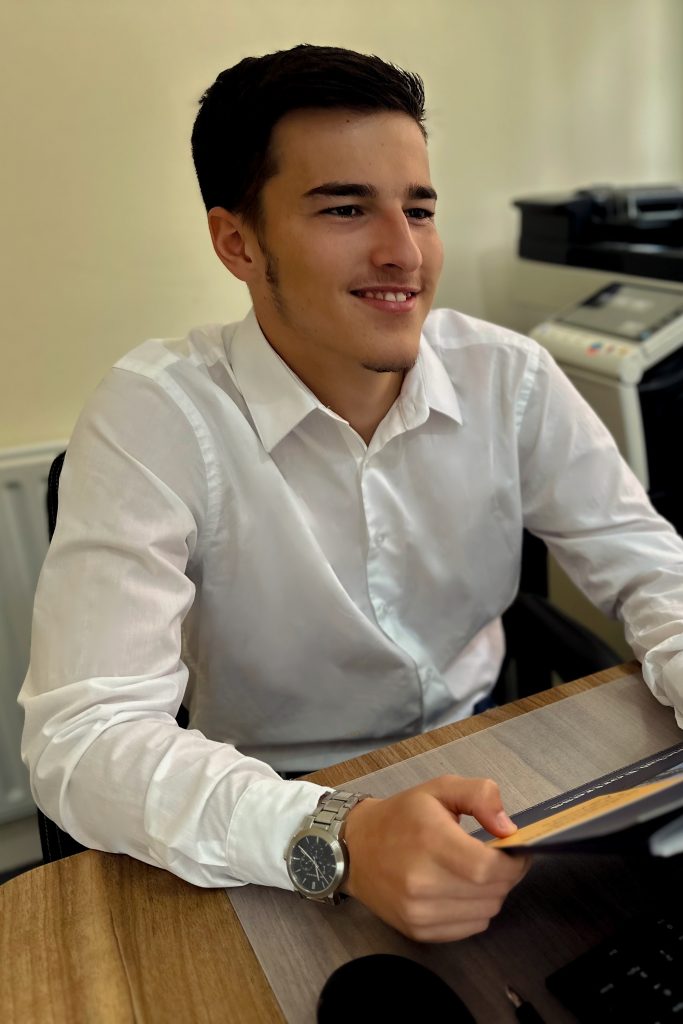 Isaac Musker
Isaac has joined the Financial Fortress team as an administrator after leaving his roll in the hospitality industry to become our next trainee financial adviser. Isaac will be enrolling in the mortgage adviser exams along studying business at college.
More about Isaac
Qualifications:


Outside work
Outside of work, Isaac enjoys playing football with friends and his team Newton Athletic (Who we sponsor) He also enjoys playing his Xbox with his brothers Josh & Noah. You may notice something similar about Isaacs surname, this is because he is also the second born son of our co-directors Wayne and Nicki Musker.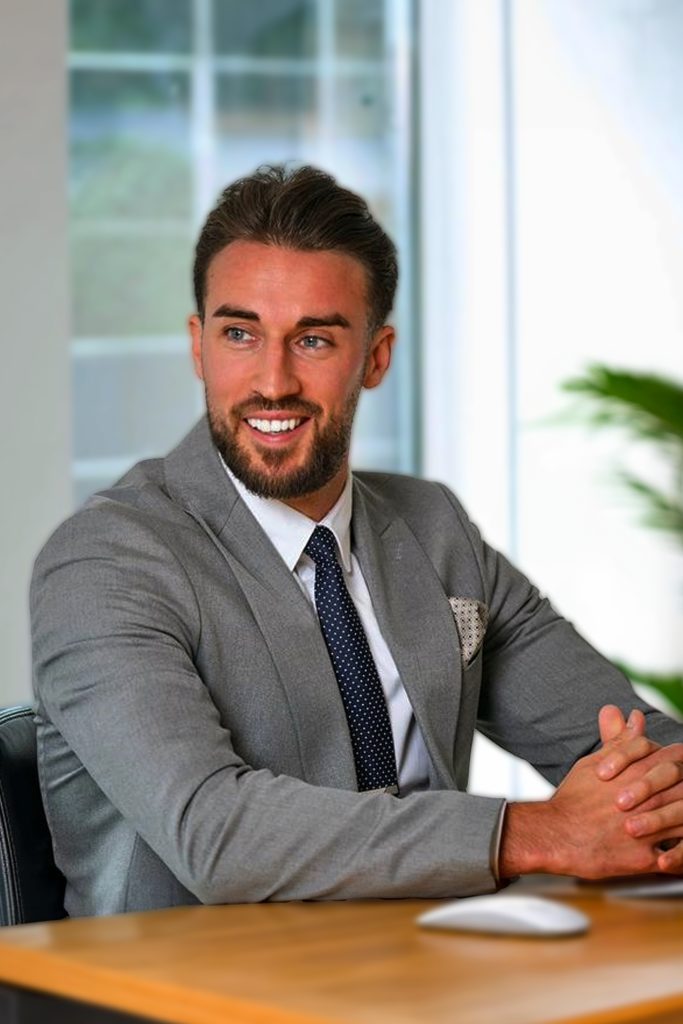 Dion Angove Cert CII (MP)
Dion started his career in Events Management which ended up taking him abroad to exotic places such as Spain, Cyprus and Gibralter where he spent eight years in the role. Eventually, Dion wanted to be more settled and drawing inspiration from his Grand-Father (who also served), he needed a new challenge and proudly joined the UK Armed Forces.
After serving his country for 4 years as a Gunner in the Royal Artillery, he then transitioned into finance and spent time as a Finance Consultant with a commercial loan brokerage. Through their growth, Dion joined team Financial Fortress in November 2023 as a Trainee Mortgage and Financial Adviser and is proud to be learning how to exceed our clients' expectations!
More about Dion
Qualifications:

Certificate in Mortgage Advice with the Chartered Insurance Institute
R01 to R05 successfully passed
R06 pending following January 2024 sitting.

Outside work
Dion is originally from Cornwall but now lives in Hawarden, North Wales with his Fiancée. His interests include walking his dog, socialising, and going to the gym. For those football crazed – Dion is a "Gunner" through his support of Arsenal bringing the support of his team to…..exactly 1!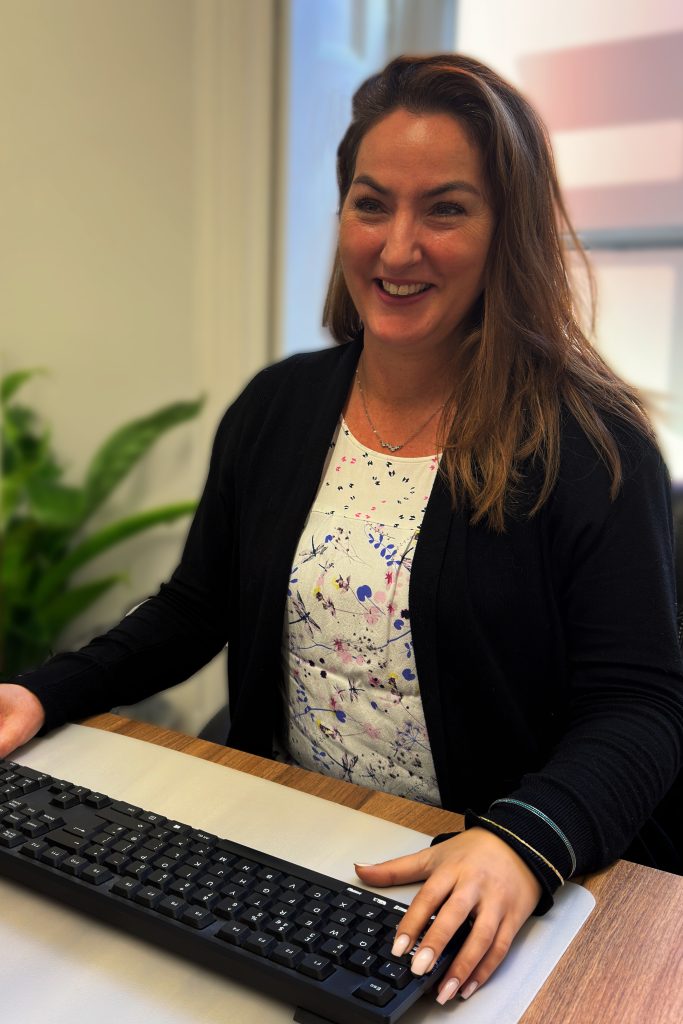 Belinda Paul BA Hons CII Cert (MP)
After obtaining her honours degree at university and having a passion for finance, Belinda started her career in the mortgage world and qualified as a Mortgage Adviser in 2008. She lived in Shropshire for 10 years and has subsequently returned to her hometown of Chester.
Over the years, Belinda has developed her deep understanding of mortgages – but has always been on the administration, compliance and report writing side of things – never "front of house" so when the opportunity arose to join team Financial Fortress she jumped at the chance!
Belinda will be providing administration and para-planning support to the team whilst also developing her skills as a Mortgage Adviser, helping our clients achieve their dream properties!
More about Belinda
Qualifications:

Certificate in Mortgage Advice with the Chartered Insurance Institute
BA (Honours) Media and Communications

Outside work
Belinda lives in the Cheshire countryside and aside from being an unpaid taxi driver to her 2 children (1 son and 1 daughter), she adores everything horse riding and rugby. Her interests include walking and exercising (usually to work off the weekend socialising)! Unlike the rest of Team FF Belinda has no idea about football, her preferred sport being rugby and can usually be found at the sidelines of her sons team trying to refrain from shouting too much!